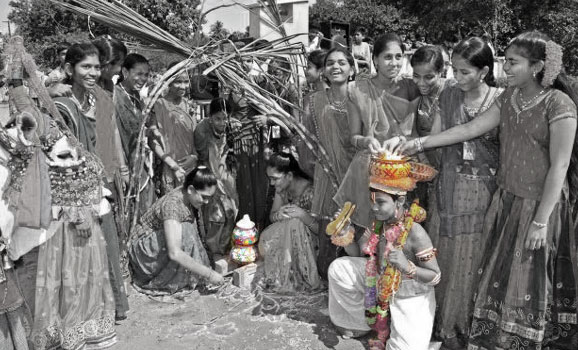 Andhra Pradesh
South India celebrates Harvest Fesitval with great pomp and show. All of the four states of southern India celebrate this grand festival in different names. It's a thanks giving celebration. It's the day of transition of Sun into Capricorn on its celestial path. In Tamil Nadu, it's called as Pongal, and celebrated as Thanksgiving to the Sun, Nature and the Cattle for helping farmers with a rich harvest and prosperity. Harvest festival is celebrated as Pongal on the first day of the Tamil Month Thai that falls in the center of January. Pongal is also referred as Tamizhar Thirunal. It's among the most widely celebrated festivals in Tamil Nadu.




In this time, the traditional dish of Pongal i.e. Boiling rice with sago and milk, is prepared at every home. As the pot of milk boils over, signifying prosperity, a shout of Pongalo Pongal fills the air. In the states of Andhra Pradesh and Karnataka, this important festival is called as Sankanthi. It's celebrated on the same day when Pongal is celebrated in the neighbor state of Tamil Nadu.
The day begins with individuals taking holy dips in the waters and worshipping the Sun. The dip is said to purify the self and bestow blessings. During this festive occasion, Special puja is offered as a thanksgiving to God.
Sankranti is a 3 day festival in Andhra Pradesh and precisely Bhogi Panduga, Pedda Panduga, and Kanuma Panduga. In Karnataka, in addition to the above Sankranthi festival, the Kodava community of Coorg district celebrates Puttari, also called as Huttari, as their harvest festival. This festival falls in Nov December. In Kerala, another State of India in the south-east region, it's called as Thai Pongal and Makaravilakku festival at Sabarimala on the same day. But it's not the Harvest Festival of Kerala. They celebrate as their Harvest festival which falls in August September. It's celebrated with utmost joy by all the people of Kerala, regardless of the religion. Onam festival is celebrated for 10 days. To know more about festivals of South India. Article Source: https:\/\/EzineArticles.